Practice Times:
Monday:
Open Mat – 6pm -7:30pm
Tuesday and Thursday:
Juniors and Beginners – 6pm – 7pm Seniors – 7pm- 8:30pm
Saturday Morning:
Advanced – 8am-10am. Kata -10:30am-noon
Where: 7333 NE Fremont Map
Ph: (503) 208-3035
Obukan Club Dues
New At Obukan:
Kata Class Saturday Mornings
Come practice and learn Nage no Kata from Ichinoe Sensei. Just beginning to learn or brushing up, this is the perfect opportunity to start. Begins at 10:30AM on Saturdays until 12 noon.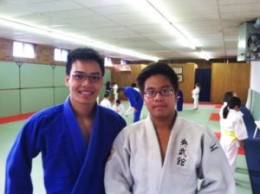 Newest Members Falling for Judo
Ngoc Tran and Tan Nguyen are two of our newest members, but have fallen for Judo.  Both only started their Judo careers this past July but have fully immersed themselves in as much training as possible.
Read More
.